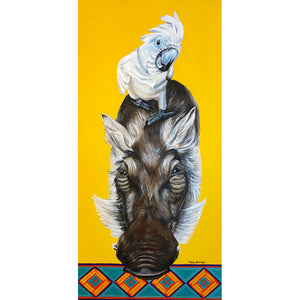 Woollybear Travels
Warthog Painting - Original Artwork - Coconut and Marlin
Regular price
$675.00
$0.00
Unit price
per
Acrylic on gallery wrapped canvas  15" x 30"
This is a bittersweet painting for me as Coconut is no longer with us, but It still makes me smile to see her and her unlikely boyfriend, Marlin the cockatoo.  They were hilarious together and my life is so much better for meeting them and getting to be one of their friends.  The pattern on the bottom is inspired by local African fabrics. In fact, I made a duvet cover for myself from the very fabric that I used for inspiration in this painting! 
If you are ordering locally in San Luis Obispo County, please email to arrange a pick up to avoid shipping costs. 
All copyright is retained by Melisa Beveridge. No reprinting of this image is permitted.
10% of this sale goes back to Free to be Wild Sanctuary in Zimbabwe to help provide all the love and care that Coconut and Marlin's friends need. By purchasing my products you are not only supporting me to do more of this work helping animals, you are also supporting the sanctuary and all the animal friends there!

*****
Before I went to Zimbabwe to Free to Be Wild Sanctuary, I had been following along on social media and I was the most excited to meet Coconut. She was a warthog that had been found as a baby all alone in very bad shape and was nursed back to health at the sanctuary. Since she was raised there she became very habituated to humans and dogs. She spent so much time with the Dalmatians and Weimaraners that lived there that she pretty much became one of the pack. I'm convinced she thought she was a dog. She had her own couch in the house and got lots of love and snuggles from everyone.
Coconut met her boyfriend, Marlin, at the sanctuary. Marlin is a cockatoo that is super fun and friendly. He always says "Hello Boy!" to everyone. It is too cute. Marlin and Coconut were inseparable. Marlin would ride around on Coconut's back, just chatting away and grooming Coconut. They even slept together at night. They were so much fun to watch. 
Coconut met a very sad and untimely end during the pandemic due to poachers. Marlin is doing well and has a lot of friends at the sanctuary, but I am sure he misses her. I almost didn't want to paint Coconut because I was so sad, but I thought she could give many more smiles to the world if I shared her beautiful face and her story. There are many people and animals that will never forget her. 
---