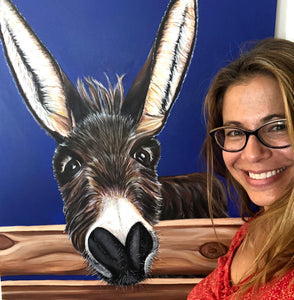 Jimbob He is a popular donkey on the Isle of Wight. He has a lot of admirers and is even called the  "George Clooney" of donkeys because he's so handsome. He arrived at the Isle of Wight Donkey Sanctuary from Carisbrooke Castle in 2017 after his retirement from turning the castle's giant oak water wheel. The water wheel takes a bucket down a well to the water and draws it back up. Since 1969, the wheel has been turned by a team of donkeys. They perform about 30 seconds of work at each demonstration. Don't worry, they spend the rest of the...
---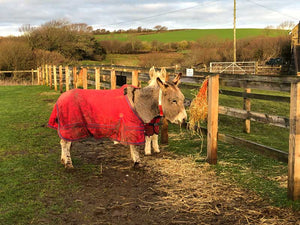 As I got off of the bus at the Donkey Sanctuary and walked up the driveway to the barns, the first thing I noticed were horses wearing colorful coats. They call them "rugs." Not having an equine background, this was a new word for me. One horse wore a white rug with giant red, white and blue polka dots. Another had a blue rug with unicorns on it that a volunteer bought her as a special present (which is pretty much the sweetest thing ever)!   I was looking for Julia, the volunteer coordinator who was my contact. I found her...
---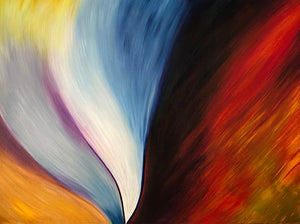 My life hasn't taken the most linear path. I tend to swirl around and see what direction life points me. For the most part, I trust that I am paying attention to what the universe is telling me and that I will go in the right direction. I had been thinking for awhile (eight years to be exact) about traveling to animal sanctuaries and producing artwork based on the animals I met. In the spring of 2018, I started to think more seriously and began looking into resources to make it work. My timeline was a few years off and...