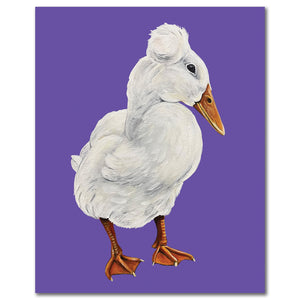 Woollybear Travels
Duck Fine Art Print - Barry
Regular price
$20.00
$0.00
Unit price
per
This sweet little ducky will make a lovely addition to your home, nursery, or kid's room! Barry has the best hairdo in town.
This 8" x 10" signed print is packaged in a plastic sleeve and sent with a sturdy backing. The story of the animal featured is written on the back so you can get to know more about their precious personality and back story.
10% of this sale will be donated to Lilly's Animal Sanctuary for the care of Barry and his friends. By purchasing my products you are not only supporting me to do more of this work helping animals, you are also supporting the sanctuary and all of the animals that live there!
All copyright is retained by Melisa Beveridge. No reprinting of this image is permitted.
*******
Barry was adopted by a young girl named Sophia in Long Beach, CA when he was just a little duckling. Over the 3 years Sophia and Barry were together, they developed a strong bond, much stronger than she expected when she adopted him!
Eventually Sophia's family had to move, and Barry could not go with them. Sophia was very sad, but she knew she had to find a safe and happy place for him to live. Luckily, she discovered Lilly's Animal Sanctuary through an amazing organization called the Farm Animal Adoption Network (FAAN). It was very hard to see him go, but Sophia was happy to find him a home with other animals and life-long care. She checks in with the sanctuary often to see how Barry's doing, and plans to visit him as soon as she can.
I met Barry at Lilly's recently and was instantly drawn to him and his cute little hairdo. He is a funny fella that loves to be in the middle of the action. My nephew also noticed what a sweet boy Barry was, and kept picking him up for duck cuddles.
Thanks to the selflessness of Sophia and the team at Lilly's, Barry gets to live out his days safely and happily at the sanctuary. I can't wait to visit him again soon!
---