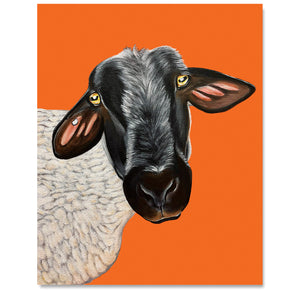 Woollybear Travels
Sheep Fine Art Print - Beau
Regular price
$20.00
$0.00
Unit price
per
This 8" x 10" signed print is packaged in a plastic sleeve and sent with a sturdy backing. The story of the animal featured is written on the back so you can get to know more about their precious personality and back story.
Beau is the friendliest sheep you will ever meet!  He lives at Lilly's Animal Sanctuary and is a part of the Central Coast Rescued Animal Series. 
10% of this sale will be donated to Lilly's Animal Sanctuary for the care of Beau and his friends. By purchasing my products you are not only supporting me to do more of this work helping animals, you are also supporting the sanctuary and all of the animals that live there!
*******
Beau was raised by a student named Miranda, alongside her Future Farmers of America classmates. The two of them had a very strong bond, and she said he was one of the sweetest, most outgoing lambs she had ever known. When it came time to auction Beau at the fair, Miranda couldn't bear the thought of what his fate might be. Instead, she contacted Lilly's Animal Sanctuary and they gave him a new and happy home.
Beau is a very handsome, charming boy and he captivated me right away. He's the head of the Welcoming Committee over at Lilly's, as he's always one of the first residents to greet guests when they arrive. He loves to visit with Erika, the sanctuary owner, when she's kneeling to clean water bowls, and always puts his head on her shoulder while she cleans. How sweet is that?! Beau spends his days with his small herd, just grazing and charming everyone he meets. I hope his painting makes you smile as big as he makes me smile during my visits to Lilly's!
---