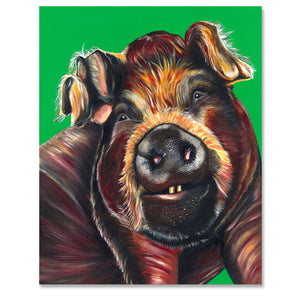 Woollybear Travels
Pig Fine Art Print - Bella
Regular price
$20.00
$0.00
Unit price
per
In memoriam - lovely Miss Bella has left us but she is not forgotten and is in our hearts. Read more about Bella below. 
This 8" x 10"  print is signed and is packaged in a plastic sleeve and sent with a sturdy backing. Her story is written on the back of the print so you can learn more about her. 
10% of this sale goes back to Loving Farm Animal Sanctuary to help provide all the love and care that Bella's friends need. By purchasing my products you are not only supporting me to do more of this work helping animals, you are also supporting the sanctuary and Bella's friends! 
All copyright is retained by Melisa Beveridge. No reprinting of this image is permitted.
********
The morning I met sweet Bella she had just eaten breakfast and was relaxing in the yard. I got to hug her for a long time. It is a unique way to meet a very large pig!  Bella is a Duroc pig and she weighs almost 500 pounds even though she was the runt of her litter. As a baby she was taken from her littermates, and the farmer asked a family to take care of her. The family fell in love with Bella, and hoping to change her  fate, appealed to the farmer to let them keep Bella and find a place for her to live safely. He agreed and Bella became the second pig to be adopted by Loving Farm Animal Sanctuary. People are surprised to learn that pigs are very social and do better when living with pig friends. Ziva was the first pig adopted by Loving Farm and she fell in love with Bella. Now they are like mother and daughter. The compassionate people at Loving Farm Animal Sanctuary take such good care of Bella and all of their animals. They're lucky to have ended up at such a wonderful sanctuary.
---