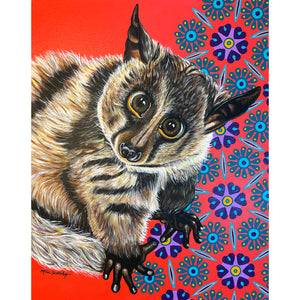 Woollybear Travels
Bushbaby Painting - Original Artwork - Gizmo
Regular price
$600.00
$0.00
Unit price
per
Acrylic on gallery wrapped canvas 16" x 20" 
I am pretty sure this little sweetheart is my soul mate.  I was his mom for 4 months in Africa when I had an unexpected extended stay due to the Covid lockdown. Ever since I first looked into his eyes I have been in love with him.  He is the most precious disabled little fluffball in the world. 

If you are ordering locally in San Luis Obispo County, please email to arrange a pick up to avoid shipping costs. 
All copyright is retained by Melisa Beveridge. No reprinting of this image is permitted.
10% of this sale goes back to Free to be Wild Sanctuary in Zimbabwe to help provide all the love and care that Gizmo and his friends need. By purchasing my products you are not only supporting me to do more of this work helping animals, you are also supporting the sanctuary and Gizmo!
******
I met Gizmo while volunteering at Free to be Wild Sanctuary in Zimbabwe. One day when Covid first started, we were getting ready to move a bunch of the baby animals to a new location, due to lockdown. While loading up the car I noticed a little carrier covered by a blanket. I lifted it up and saw the most precious pair of crossed eyes looking up at me. I fell in love with him immediately and knew I was meant to be his caretaker. 
Gizmo is a thick-tailed greater galago, otherwise known as a bushbaby. They're called bushbabies because their cry often sounds like a little baby, though I never heard Gizmo cry like that.  The poor little guy was found all alone and had likely been rejected by his mother in the wild. Upon closer inspection I discovered the extent of his disabilities. He was unable to properly use his back legs, which is a huge disadvantage for a bushbaby, as they need their back legs for climbing and jumping. Due to this disability he cannot be let into the wild. For now he has free rein of a bedroom at the sanctuary and will hopefully be able to live with the two other disabled bushbabies on the property when he gets a little bigger.
I have never fallen in love with an animal like I did with him. We'd spend our nights cuddling while I brushed him with a toothbrush (this was his favorite thing). He also loved having his little underarms scratched. I think about him all the time and cannot wait to go back and have more toothbrush-cuddle sessions with him!
---