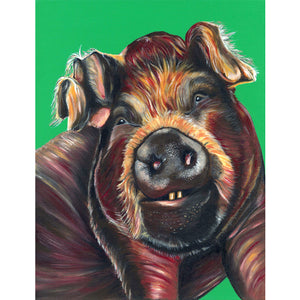 Woollybear Travels
Pig Painting - Original Artwork - Bella
Regular price
$450.00
$0.00
Unit price
per
Acrylic on gallery wrapped canvas 11" x 14" 
This is miss Bella! She lives with all of her friends at Loving Farm Animal Sanctuary in California.  I create gifts that give back because all animals deserve love! Read more about Bella below. 
 **********
The morning I met sweet Bella she had just eaten breakfast and was relaxing in the yard. I got to hug her for a long time. It is a unique way to meet a very large pig!  Bella is a Duroc pig and she weighs almost 500 pounds even though she was the runt of her litter. As a baby she was taken from her littermates, and the farmer asked a family to take care of her. The family fell in love with Bella, and hoping to change her fate, appealed to the farmer to let them keep Bella and find a place for her to live safely. He agreed and Bella became the second pig to be adopted by Loving Farm Animal Sanctuary. People are surprised to learn that pigs are very social and do better when living with pig friends. Ziva was the first pig adopted by Loving Farm and she fell in love with Bella. Now they are like mother and daughter. The compassionate people at Loving Farm Animal Sanctuary take such good care of Bella and all of their animals. They're lucky to have ended up at such a wonderful sanctuary.
---