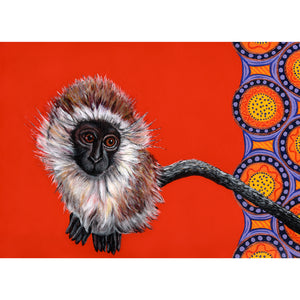 Woollybear Travels
Vervet Monkey Painting - Original Artwork - Oscar
Regular price
$425.00
$0.00
Unit price
per
Acrylic on Canvas 12" x 9"  (canvas is 0.5 inches deep)
This little bitty baby vervet monkey lives in a troop at Free to be Wild Sanctuary in Zimbabwe. He lived in my bedroom for a few weeks as I showed him how to drink from a bottle which was the most amazing experience ever. The design in the background was inspired by local African fabrics. I create gifts that give back because all animals deserve love! Read more about Oscar below. 
If you are ordering locally in San Luis Obispo County, please email to arrange a pick up to avoid shipping costs. 
All copyright is retained by Melisa Beveridge. No reprinting of this image is permitted.
10% of this sale goes back to Free To Be Wild Sanctuary to help provide all the love and care that Oscar and his friends need. By purchasing my products you are not only supporting me to do more of this work helping animals, you are also supporting the sanctuary and Oscar!

*******
When I first arrived at Free to be Wild Sanctuary and met the owner, Baye, she told me and the other volunteer, Alice, that we would be taking care of two baby vervet monkeys that had recently arrived and needed to be bottle-fed and given lots of love. Can you imagine our excitement?! Alice and I, along with Oscar and Lily the monkeys, moved into a room together and we bonded with them over the next few weeks, showing them how to drink from a bottle and that humans aren't all bad. They kept their distance the whole time, edging closer and closer but never quite trusting us all the way. Oscar was more scared at first and Lily would cuddle him at night on top of the wardrobe. Slowly Oscar got braver and even let me pet him a few times. Oscar was suspected stolen from his mom and was going to be sold into the wild animal trade as it is easy to sell a cute baby monkey. A local woman saw Oscar for sale and confiscated him so he could have a life with other monkeys at the sanctuary. Unfortunately, it is not uncommon for primates to be stolen from their mothers, and Oscar is not the only monkey at the sanctuary to have this same story. Oscar will be released with the new troop that is forming now including his friend Lily.

---