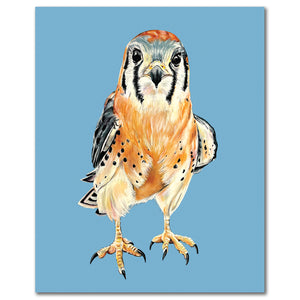 Woollybear Travels
Kestrel Fine Art Print - Pip
Regular price
$20.00
$0.00
Unit price
per
This beautiful face will make a lovely addition to your home, nursery, or kid's room! Pip is such a striking American kestrel.
This 8" x 10" signed print is packaged in a plastic sleeve and sent with a sturdy backing. The story of the animal featured is written on the back so you can get to know more about their precious personality and back story.
10% of this sale will be donated to Pacific Wildlife Care for the care of Pip and his many friends. By purchasing my products you are not only supporting me to do more of this work helping animals, you are also supporting the Wildlife Center and all of the animals that they help!
All copyright is retained by Melisa Beveridge. No reprinting of this image is permitted.
*******
Little Pip is an American Kestrel, the smallest breed of falcon. He was just a fledgling when he flew into a window and broke his left wing. As you can see by the way he holds it in his painting, it never healed properly, which meant he was unable to be released back into the wild. While this is sad news, the silver lining is that Pip gets to be an Animal Ambassador for Pacific Wildlife Care (the amazing non-profit that rescued him). As an ambassador, Pip visits different educational events, teaching people about his species.
One special skill that American Kestrels have is that they can fly mid-air, which means they can literally just hover in one spot. This allows them to watch their prey and dive like a bullet to catch it! Another unique trait is that males and females raise their young together as a family. They don't waste time building nests, but instead use cavities in trees or boxes.
Pip is now six years old. In captivity, Kestrels usually live to be about 12-14 years old. Pip enjoys walks with his handler, Tera. He sits on her gloved hand on his leash, and they walk around the neighborhood. When I met Pip, I was immediately struck by his beauty, and I hope I captured that in his painting. He's really living the good life thanks to the incredible team at Pacific Wildlife Care!
---