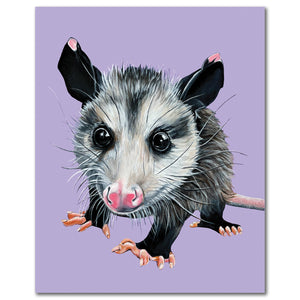 Woollybear Travels
Opossum Fine Art – Peanut
Regular price
$20.00
$0.00
Unit price
per
This fun face will make a lovely addition to your home, nursery, or kid's room! Peanut is the sweetest little baby opossum in the world!
This 8" x 10" signed print is packaged in a plastic sleeve and sent with a sturdy backing. The story of the animal featured is written on the back so you can get to know more about their precious personality and back story.
10% of this sale will be donated to Pacific Wildlife Care for the care of Peanut and her many friends. By purchasing my products you are not only supporting me to do more of this work helping animals, you are also supporting the Wildlife Center and all of the animals that they help!
All copyright is retained by Melisa Beveridge. No reprinting of this image is permitted.
*******
I met sweet little Peanut when she was only 3 months old while she was busy eating grapes at Pacific Wildlife Care. I've heard she washes her little face the way a hamster does and I can only imagine it's the cutest thing in the world. She has light pink coloring on her ear tips and a clean tail (this is a sign of a young opossum).
Peanut had a head injury when she was found, which led to blindness, so she cannot be released into the wild. Since she can't be released, she was given the very important job of Wildlife Ambassador at Pacific Wildlife Care. This means she travels to different events to teach people about her species. This is an especially important job because, as you may know, opossums get a pretty bad rap. Opossums are essential to our environment because they act as nature's "Sanitation Engineers." They help us out by getting rid of SO many pests. Scientists credit them with helping slow the spread of Lyme disease.  Also, it is extremely rare for them to carry rabies because they have a body temperature lower than other mammals plus high immunity, so they are not good hosts for rabies.  Another interesting fact I learned about opossums is that they are immune to snake venom and the toxin from scorpion bites.
Between their cuteness, their ability to help prevent the spread of disease, and immunity from so many scary things, opossums seem like superheroes to me! I hope my painting and Peanut's story help paint opossums in a different light and show the world how special these little creatures really are.
---