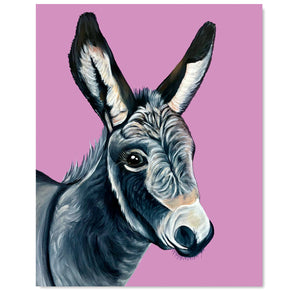 Woollybear Travels
Baby Donkey Fine Art Print - Opie
Regular price
$20.00
$0.00
Unit price
per
This 8" x 10" signed print is packaged in a plastic sleeve and sent with a sturdy backing. The story of the animal featured is written on the back so you can get to know more about their precious personality and back story.
Baby Opie is an amazing little miracle. You can read more about his story below.
All copyright is retained by Melisa Beveridge. No reprinting of this image is permitted.
10% of this sale will be donated to the Redwings for the care of Opie and his friends. By purchasing my products you are not only supporting me to do more of this work helping animals, you are also supporting the sanctuary and all of the animals that live there!
 ******
The story of Opie and his Mom, Poppy, always makes me smile. Poppy arrived at Redwings Horse Sanctuary with her baby, Sebastian, and four other rescue horses in tow. They were all rescued from a slaughter pen in Texas. When Poppy arrived, the team noticed that her tummy was getting bigger and bigger. Turns out, she was pregnant! Baby Opie was the most wonderful little surprise, and everyone was over the moon when he was born. He has the softest fur and the cutest little donkey nose. To make this happy ending even happier, the family that was set to adopt Poppy decided to take Opie too, so they get to stay together forever!
I painted Opie during Redwings Grand Opening Party while he was relaxing in his stall. He made a great subject and kept coming over to check on my progress. I hope he approved of the final product, and I hope you love it too!
---