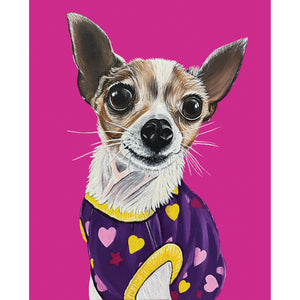 Woollybear Travels
Chihuahua Fine Art Print - Marge
Regular price
$20.00
$0.00
Unit price
per
This 8" x 10" signed print is packaged in a plastic sleeve and sent with a sturdy white mat board backing. The story of the animal featured is written on the back so you can get to know more about their precious personality and back story.
10% of this sale will be donated to Woods Humane Society for the care of Marge's dog and cat friends. By purchasing my products you are not only supporting me to do more of this work helping animals, you are also supporting the rescue and all of the animals that live there!
*******
One day while making my rounds at the Woods Humane Society's spay/neuter clinic, I came across the cutest little old lady chihuahua. I could tell she was really sad and scared so I scooped her up and held her for a while. I continued to visit her over the next few days in her kennel. I just really felt a strong connection with her, like I was supposed to be the one taking care of her.
I took her home for the weekend as a "test run" to see if she got along with my cat, Snoopy. Snoop wasn't totally sure about Marge at first, but she didn't seem to have too big of a problem with her. It probably helped that Snoopy is 3 times the size of Marge. I decided Marge would be the perfect addition to our little family so I officially adopted her! 

Marge loves all people and can't get enough of everyone coming up to say hello and telling her how cute she is! She's just the happiest little dog. She comes to work with me once a week and even has her own office that says "Marge, Supervisor" on the door. My co-workers love having her around, and she really pulls her weight (which is only about 4.5 lbs by the way), helping with training videos and Woods promotion events. I don't know how I lived without her for so long, and I'm so happy to be her mama! Marge thinks that everyone should adopt a shelter dog.

---