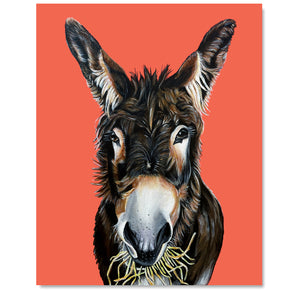 Woollybear Travels
Donkey Fine Art Print - Bella Luna
Regular price
$20.00
$0.00
Unit price
per
This 8" x 10" signed print is packaged in a plastic sleeve and sent with a sturdy backing. The story of the animal featured is written on the back so you can get to know more about their precious personality and back story.
Sweet Bella lives at Rancho Burro Donkey Sanctuary and she is part of the Central Coast Rescued Animal Series. 
10% of this sale goes back to Rancho Burro Donkey Sanctuary to help provide all the love and care that Bella and her friends need. By purchasing my products you are not only supporting me to do more of this work helping animals, you are also supporting the sanctuary and Bella's friends! 

**********
Bella Luna is a force to be reckoned with! This sassy, energetic girl has a huge personality and is constantly on a quest to get more attention and more food. Bella always wants to know what is going on and loves to investigate any new happenings or visitors at Rancho Burro Sanctuary. In fact, she was one of the first donkeys to come give me a sniff and ask for a pet during my first visit. The sanctuary rescued Bella's mom, Tutti just in the nick of time before she was about to meet an untimely end. A month after her arrival, the team at the sanctuary discovered Tutti was pregnant with Bella. Even though Bella is a big girl now, her mama still keeps a close eye on her. The two of them are very well cared for and very loved in their new forever home at Rancho Burro.
---