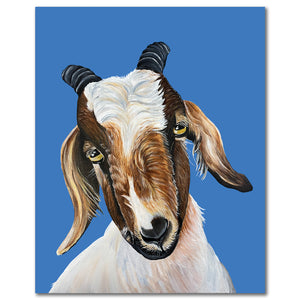 Woollybear Travels
Goat Fine Art Print - Ollie
Regular price
$20.00
$0.00
Unit price
per
This silly face will make a lovely addition to your home, nursery, or kid's room! Ollie is such a silly, precious sweetheart.
This 8" x 10" signed print is packaged in a plastic sleeve and sent with a sturdy backing. The story of the animal featured is written on the back so you can get to know more about their precious personality and back story.
10% of this sale will be donated to Goatlandia for the care of Ollie and his friends. By purchasing my products you are not only supporting me to do more of this work helping animals, you are also supporting the sanctuary and all of the animals that live there!
All copyright is retained by Melisa Beveridge. No reprinting of this image is permitted.
*******
Cute little Ollie was found on the side of the road in Bodega, CA with no dairies, farms or houses around. He was a baby, with his umbilical cord still attached. He couldn't have been more than a couple of days old. This very lucky boy was rescued by Goatlandia, a sanctuary in Santa Rosa, CA. They bottle-fed him for months and he grew up to be happy and healthy. Now Ollie loves to eat! As portrayed in his painting, he is always chewing, chewing, chewing!
Speaking of eating, the day I met Ollie, he ­had just eaten breakfast and came right up to me for lots of pets. Baby goats are NOT shy and want as much love, attention and treats as they can get. I saw Ollie a second time at the Sonoma County Veg Fest where he was busy meeting people and helping Goatlandia volunteers spread the word about their amazing sanctuary. Ollie had a bit of a rough start in life, but now he's a happy camper who brings joy to everyone he meets!
---