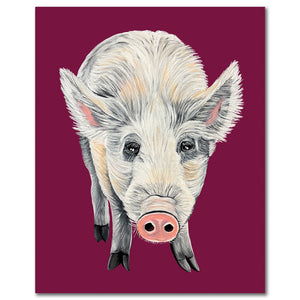 Woollybear Travels
Pig Fine Art Print - Nicholas
Regular price
$20.00
$0.00
Unit price
per
This sweet face will make a lovely addition to your home, nursery, or kid's room! Nicholas is such a precious sweetheart.
This 8" x 10" signed print is packaged in a plastic sleeve and sent with a sturdy backing. The story of the animal featured is written on the back so you can get to know more about their precious personality and back story.
10% of this sale will be donated to Charlie's Acres Farm Animal Sanctuary for the care of Nicholas and his friends. By purchasing my products you are not only supporting me to do more of this work helping animals, you are also supporting the sanctuary and all of the animals that live there!
All copyright is retained by Melisa Beveridge. No reprinting of this image is permitted.
*******
Nicholas was rescued by Charlie's Acres Farm Animal Sanctuary along with his two brothers, Gilbert and Victor. Their story began when a rancher purchased a pig that, to his surprise, was pregnant! When three boy piglets and three girl piglets were born, there was the question of what to do with them. Luckily a sweet, 11-year-old boy named Nicholas convinced the rancher to let him find homes for all 6 piglets.
Nicholas the pig was named after this sweet little boy who saved him and his siblings. He and his two boy siblings are best buddies and love their lives at Charlie's Acres. In general, pigs bond very closely with their friends and siblings and these boys are no different. They snuggle together every night and hang out together every day. The boys are HUGE now, and they love all kinds of attention. When I visited, they came running up as soon as I arrived. They wanted all the belly rubs and pets!
Charlie's Acres is home to a variety of animals including goats, cows, ducks, chickens, and even turkeys! It is such a peaceful and beautiful place for these lucky animals to spend their days. Something about it was so inspiring to me and filled me with so much love. I can't wait to go back and visit, and I love sweet stories like this one of the three brother piggies.
---