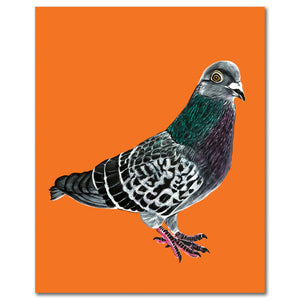 Woollybear Travels
Pigeon Fine Art Print - Pidgy
Regular price
$20.00
$0.00
Unit price
per
This fun art print will make a lovely addition to your home, nursery, or kid's room! Pidgy is such a fun-loving pigeon.
This 8" x 10" signed print is packaged in a plastic sleeve and sent with a sturdy backing. The story of the animal featured is written on the back so you can get to know more about their precious personality and back story.
10% of this sale will be donated to Pacific Wildlife Care for the care of Pidgy and his many friends. By purchasing my products you are not only supporting me to do more of this work helping animals, you are also supporting the Wildlife Center and all of the animals that they help!
All copyright is retained by Melisa Beveridge. No reprinting of this image is permitted.
*******
Pidgy the Pigeon (officially named Rocky)  was rescued by Pacific Wildlife Care after he fell out of his nest. He still can't fly very well and has some neurological issues, so he has joined the Ambassador Team at PWC. As an ambassador, he visits different events to educate people about his species and animal rehabilitation. Pidgy LOVES to meet new people, so being an ambassador comes very naturally to him. When I met him, he got VERY excited. He puffed up his feathers for me and did a mating dance the entire time! I was pretty impressed with his moves, but I told him he wasn't really my type.
Pigeons have an innate ability to find their way home from long distances. This special skill has helped save over a thousand lives during wars when pigeons earned medals for delivering messages! One famous pigeon, named Cher Ami, was shot down by enemy fire and STILL made it back with her message. She was badly injured, but the army medics saved her life and replaced her broken leg with a wooden one! Who knew pigeons were such incredible creatures!?
Pidgy is now 5 years old and has a long and happy life ahead of him. I was especially excited to paint him because my nephew has been interested in pigeons for some time now. I am honored to have met this charismatic little guy!
---