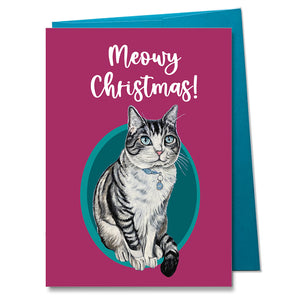 Woollybear Travels
Set of 8 Cat Holiday Cards - Baloo
Regular price
$22.00
$0.00
Unit price
per
This Set of 8 Holiday cards will make everyone smile! The cards are 5" x 7" and come with teal envelopes. The story of Baloo is written on the back so you can get to know more about his precious personality and back story.
Baloo is a very special cat that my friend got from Woods Humane Society.  You must know some cat people that would love this! Or, maybe YOU are the cat person!
10% of this sale will be donated to Woods Humane Society for the care of Baloo's dog and cat friends. By purchasing my products you are not only supporting me to do more of this work helping animals, you are also supporting the organization and all of the animals that live there!
*******
I met Baloo through his mom, a vet assistant named Becca that I worked with at Woods Humane Society. One day (long ago, before my days working at Woods), Baloo was brought to the shelter and was scheduled to be neutered. Becca immediately fell in love with his big cheeks and squishy body, and he really charmed her with what a good boy he was for his surgery. She was so in love that she decided to adopt him!
These days Baloo is spoiled rotten by Becca (as he should be!). He keeps a very strict schedule and wakes his mom up every morning at 5:30am so she can watch him do his "business" and feed him breakfast. Then he goes back to sleep. He loves to play with his purple bouncy ball and pipe cleaners, and when he wants attention from his mom he attacks her feet. She loves him so much and has shared so many fun Baloo stories with me over the years. It makes me so happy when an animal finds the perfect owner. Baloo thinks adopting from a shelter is really important so more kitties in need can find good homes! 
---