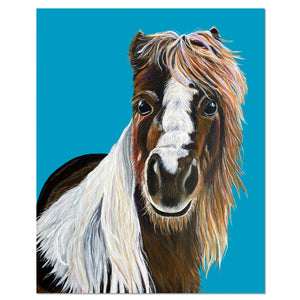 Woollybear Travels
Miniature Pony Fine Art Print – Little Bit
Regular price
$20.00
$0.00
Unit price
per
This sweet little mini pony will make a lovely addition to your home, nursery, or kid's room! Little Bit makes everyone happy.
This 8" x 10" signed print is packaged in a plastic sleeve and sent with a sturdy backing. The story of the animal featured is written on the back so you can get to know more about their precious personality and back story.
 10% of this sale goes back to Redwings Horse Sanctuary to help provide all the love and care that Little Bit and his friends need. By purchasing my products you are not only supporting me to do more of this work helping animals, you are also supporting the sanctuary and Little Bit's friends!
When Magic and Bambi joined the Redwings family, there was a buzz that Bambi might be expecting. The staff eagerly waited, but Bambi didn't seem to show signs of pregnancy until late September 2000. There was a bit of worry because miniature horses, bred to be smaller, sometimes faced complications during birth. The staff took turns watching over her, making sure everything was okay. One day when the staff was out for dinner, a perfect Little Bit was born with no trouble.
Little Bit was a precious miniature pony, inheriting his dad's pinto spots and his mom's colors. He had these adorable raccoon-like circles around his eyes when he was born, adding to his cuteness. He grew out of the circles, but not the cuteness! When I met him I was immediately in love and found it really hard to stop telling him how he was the absolute cutest pony EVER.
Little Bit steals everyone's hearts with his tiny size and playful charm. He is one pampered pony. The staff even playfully nicknamed him "Little Brat." Now, he's all grown up, but he's still a beloved and very spoiled member of the Redwings family.
---